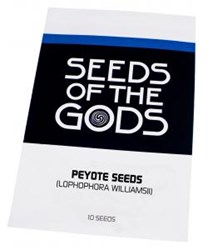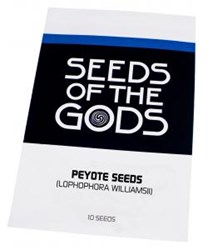 Peyote Seeds
Seeds of the Lophophora williamsii cactus, or Peyote. They grow very slowly. It takes about a year for the seeds to produce roots and start growing. It also takes several years before they may be harvested.


These cacti contains mescalline and has been used shamanically for divination and healing in the Andes for more than 3000 years. This mescaline trip is well known as the doors of perception. They believe that the mescaline trip will clean there spirit and body and will guide them through their live line.
It's a very, very strong deep trip with lots of hallucinations that can last up till 15 hours.
When Indians use peyote, they take only the part that grows above the ground. They take off the white hairs and slice the cacti very thin. They boil the slices gental for 8 hours in a little bit of water. After 8 hours they drink the water and chew the slices for a hour. Than the journey begins.
They believe that the mescaline trip will clean your spirit and body and will guide you through the secrets of our univers.

content: 10 seeds